---
2012 Disease Detective Keynote Speaker
---
'Innovation in the Control of the Neglected Tropical Diseases'
Dr. D. A. Henderson shares the inside story of 'the greatest scientific and humanitarian achievement of the past century'
Some of the worst tropical diseases in the world have too long been ignored. Parasitic and bacterial diseases such as hookworm, snail fever, river blindness, guinea worm, elephantiasis, sleeping sickness, and leprosy are the most common infections of third-world populations. These neglected tropical diseases (NTDs) represent one of the most important reasons why populations living in Africa, Asia, and Central and South America remain caught in a vicious cycle of poverty, stigma, and despair.

With a lifetime devoted to the subject of tropical diseases, the well-known expert Dr. Peter Hotez provides a comprehensive view of these forgotten diseases. Written in accessible, straightforward language, Forgotten People, Forgotten Diseases thoroughly explains the most significant NTDs, including social and economic aspects, public health concerns, and preventative measures.

This volume will raise public awareness about these forgotten diseases and their enormous physical, social, and economic costs to individuals and nations alike, and advocates for the largely voiceless victims living in remote and rural regions. Dr. Hotez also provides a roadmap to coordinate global advocacy and mobilization of resources to combat these conditions. Finally, the book addresses unique opportunities to fight the NTDs through low-cost and highly cost-effective control measures.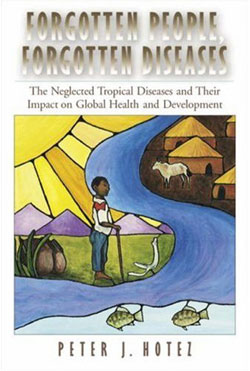 Key Features
Authored by one of the world's leading experts on the NTDs
Conveys important information about this critical global health problem in non-technical language
Details the biological, social, and economic aspects of these diseases
Explains the links between global health and international economic development
Provides information on individuals, companies, and foundations involved in advocacy for the NTDs
Includes extensive illustrations and references for further reading
Peter Hotez M.D. Ph.D. is president of the Sabin Vaccine Institute and the founding dean of the National School of Tropical Medicine at Baylor College of Medicine in Houston, Texas. He is the author of "Forgotten People, Forgotten Diseases" (ASM Press).